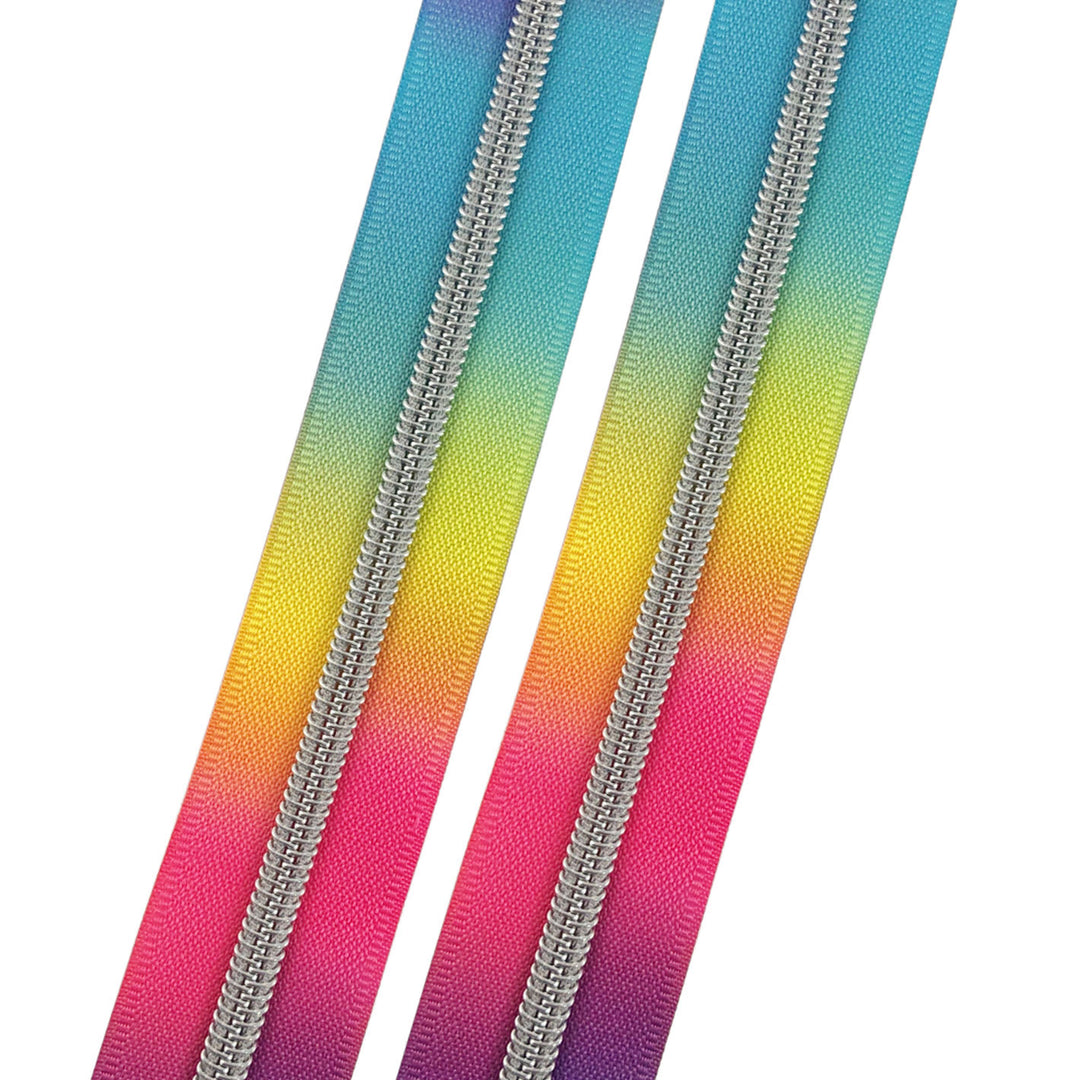 Infinity Rainbow - #5 Silver Nylon Coil Zipper Tape
In stock (for now)

Inventory on the way
Your trusty sewing companion.
A unique zipper tape with silver nylon teeth! You can easily cut it so you'll have access to the exact zipper length you need, whenever you need it.
Rainbow print is on BOTH sides of the zipper tape.
Go wild and sew through the nylon teeth without breaking your needles. Enjoy a no-fuss sewing experience. 

Perfect for making pouches, backpacks, handbags, cushions, and outdoor projects too!

Comes in your choice of 1 or 3 yards so it lasts you multiple uses.
What about zipper pulls?
This is just the zipper tape, no pulls! That means you can pick your favourite size #5 zipper pulls to help customize and elevate your projects.

You can make single or double-pull zippers with our zipper tape.
One yard: 36 inches (91 cm).
Zipper width: 1¼ inches (3 cm).
You've placed an order, the sun is shining and the sewing gods are singing - now what? 😊 Our team will carefully package and ship your order within 3 business days. You'll receive an email with your tracking number once your order is shipped. 
All orders ship from Kitchener, Ontario. Thanks for your patience during this busy holiday season.
Canadian Orders: Once shipped, most orders will arrive within 1-10 business days depending on your location. We offer Canada Post and UPS options.
US Orders:
Once shipped, m
ost orders will arrive within 2-9 business days. We offer First Class, Economy Ground and Priority Mail shipping with USPS and UPS Standard &
DHL Express options.
Do you ship internationally? Great question! At this time, we are only able to ship within Canada and the USA. We hope to ship abroad in the future!
Something not quite right with your order? No worries, your happiness is our priority! We'll do our very best to make it right for you or your money back. We're that sure you'll love our products.